Simon says: interpreting the new Head of Civil Service appointment

James
Sep 2, 2020 10:08:00 PM · 2 min read
You know you're getting old, when the Head of the Civil Service is younger than you. I crossed that threshold yesterday, when a bright-eyed 41 year-old was appointed as the replacement to Sir Mark Sedwill.
Sir Mark, you'll recall, was asked to stand aside by the Prime Minister in June, following unhappiness at the top at how the government machine was responding to the unprecedented challenge of Covid-19, and how Sir Mark was responding to that response.
The new broom is Simon Case, the current Permanent Secretary in Number 10, and very much an outsider's pick for the role. Despite being a career civil servant, Simon has never run a big ministry - and could therefore be viewed as free from Whitehall's 'institutional capture', through which the contours of what is possible are carved out in the slow, tectonic grind of inter-departmental friction.
The Prime Minister said:
Simon will make a fantastic Cabinet Secretary and Head of the Civil Service. His years of experience at the heart of government and working for The Royal Household make him ideally suited for this crucial role.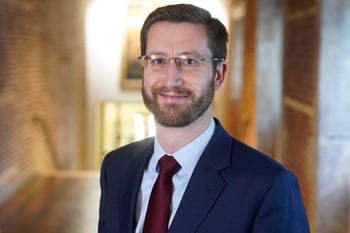 Commenting on his appointment, Simon Case said:
It is an honour to be appointed as Cabinet Secretary and Head of the Civil Service. Over these few months of working on the Covid response, I have seen how much hard work is being done by the Civil Service to support the government and our country through unprecedented times. It is a privilege to come into this role to lead a Service that is working day in, day out to deliver for people right across the country.
The unexpected (it certainly surprised me!) appointment reveals a number of things about the Government's plans for transformation, already telegraphed by talk of 'hard rain', and in a series of reformist speeches by Cabinet ministers.
Heads of Civil Service can only be appointed from the current crop of Permanent Secretaries - and Case barely met this requirement, having only been appointed to the role of Cabinet Office Permanent Secretary earlier this year, supposedly on a temporary basis.
Brought in to steady the ship in the Government's response to Covid-19, Case's ability to get things done in Whitehall clearly impressed Number 10.
This generational changing of the guard is a sign that the Government wants to shake things up, and thinks it has found someone who can help them 'get things done'. It's also a sign of the tension between the Government and the Permanent Secretaries in the Ministries, all of whom have in effect been 'passed over' during the selection process.
Not that we needed further evidence of tensions between Government and the Mandarin class: in addition to Sir Mark, we've seen Permanent Secretary departures from Department for Education, Home Office, Foreign Office and the Ministry of Justice.
To lose one Perm Sec may be regarded as a misfortune; to lose five begins to look like further momentum for Number 10's civil service transformation agenda.
---

James is the Editor of Government Transformation magazine, and has been covering digital government and public sector reform for 20 years. He also oversees the development of the UK's biggest network of public sector transformation conferences.