Government Transformation Magazine is obsessive about Future Government Delivery.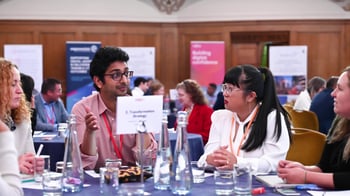 We focus on transformation initiatives around digital, data, sustainability and people, and organise the largest network of public sector transformation conferences in the UK, while at the same time seeking to reflect the world we want to see with diverse and gender-balanced participation across all of our channels.

We build capacity for digital, data, technology and operational delivery executives across central and local government through our digital communities of practice, and high-level face-to-face networking events such as our large-scale Government Transformation Summit series of conferences.

Twice a year the industry-recognised* Government Transformation Summit brings together almost 700 senior central and local government specialists across Operations, Digital, Data, CX, Sustainability and People Summit Tracks.
Our publishing and event teams are led by former public sector practitioners, bringing decades of credibility leading, engaging and enabling public sector organisations.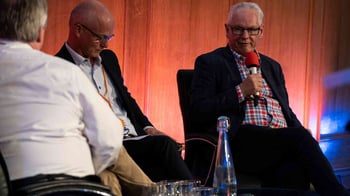 Throughout our journalism, conferences and research - we report on, analyse and showcase public sector excellence, here in the UK and internationally, creating a bridge between different organisations and jurisdictions to improve delivery and transform outcomes.

*We came second (😭) in the 2021 Hybrid Events Institute awards.

"The entire experience was extraordinary and as such, I will certainly continue to promote and attend. I've signed up for the newsletter to stay abreast. Lastly (OK, this one really is last) I just love the playbook. What an extraordinary capture of the best take-aways from so many speakers." - Chief Information Officer, Central Government

"Thank you so much for delivering this event, it's been highly informative and engaging and I can't begin to imagine how much organisation went into it. The event has far exceeded my expectations, has given me a great deal of food for thought and I've thoroughly enjoyed it." - Jo Lloyd, Head of IT & Transformation, SHG
"I'm pleased to be sharing my thoughts on the future of public sector leadership as part of the GovX Digital conference. In the current climate, it's important to define what kind of leaders we will need for the future of the Civil Service - how we find, train and retain the best talent." - Rupert McNeil, Chief People Officer UK Government, Cabinet Office
"A big thanks from me for putting on a really good session. Good participants and the flow worked really well. Learned some good lessons!" - Alexander Holt, Head of Emerging Opportunities, Digital Directorate, Scottish Government
"Initially I was sceptical about attending an online event like this but glad I got to experience it: you and the team did a fantastic job organising the conference." - Manisha Pathak, Programme Lead, Civil Service Talent, Cabinet Office
"Really enjoyed the sessions I went to last week. Such a great, insightful line-up of speakers too." - Alice Hughes, Marketing Manager, Antser