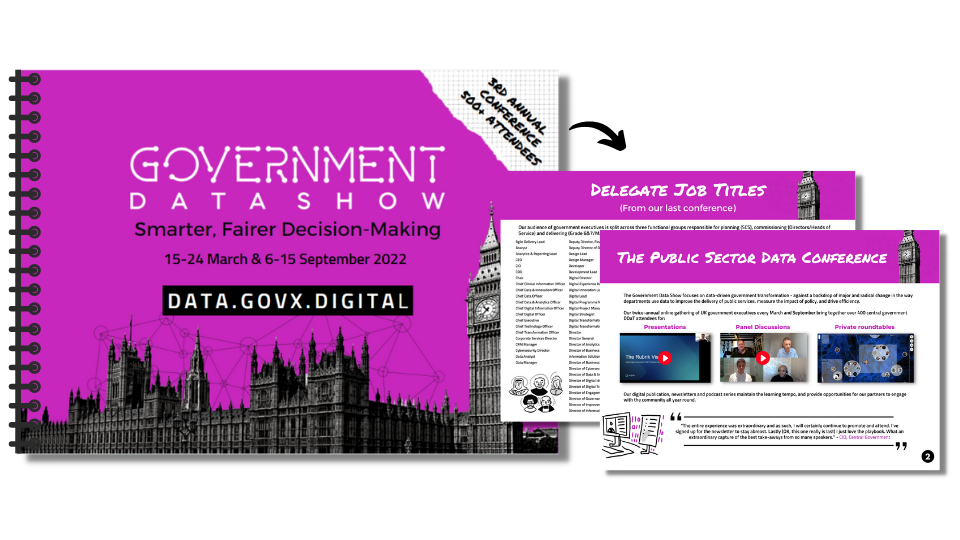 15-24 March 2022 | Online Conference
Smarter, Fairer Decision-Making
A great session, with awesome colleagues.
- Neil McIvor, Chief Data Officer & Chief Statistician, Department for Education
Government Data Show focuses on data-driven government transformation - against a backdrop of major and radical change in the way departments use data to improve the delivery of public services, measure the impact of policy, and drive efficiency.

Our twice-annual online gathering of UK government executives every March and September bring together over 500 central government data, digital and technology delegates.
In September we had 599 conference attendees spend an average of 5 hours 20 minutes engaging with live panel discussions, private CXO roundtables, and keynote presentations.
Off the back of this, our commercial partners are able to:
• Build individual executive credibility, and raise organisational profile
• Discover early-stage business opportunities and identify project champions
• Engage face-to-face with new government contacts
• Map out project spending priorities for 2021
• Generate marketing qualified leads
Each session was 45 mins well spent for anyone in or on the periphery of the government data profession."
- Mike Fishwick, Chief Technology Officer, Intellectual Property Office