We will be serving morning pastries and lunch in Hoare Memorial Hall.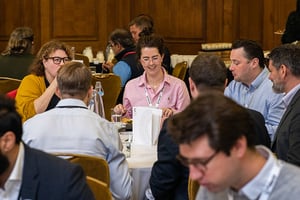 Upon arrival following registration we will be providing a selection of pastries and piping hot tea and coffee up until 9am.
There will then be a morning comfort break with the opportunity to restock on tea, coffee and pastries.
Then at lunchtime we will provide a 2-course sit-down buffet lunch with vegan options
Please check the Agenda page of Government Data Summit (30th March) and Government Transformation Summit (11th May) for the latest schedule.
The Hoare Memorial Hall is on the same level of the building as the Assembly Hall where our Summit is held.
Fun fact: the Hoare Memorial Hall played host to the House of Commons for a period during the Second World War, following the bombing of the Palace of Westminster. 😮