All our Summits have the same purpose - to support transformational delivery.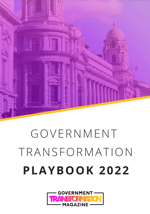 During our conferences we enable conversations that wouldn't otherwise happen - and after our conferences we invite speakers ("co-hosts") and delegates ("contributors") to share their key takeaways in a Summit 'Playbook'.
Published after the event, the Playbook becomes a lasting record of the best ideas as determined by conference participants - and a resource to be shared with your wider team. This is also made available to the wider public sector through Government Transformation Magazine.
NB. Contributing to the Playbook is optional (obviously) - and contributions may be submitted anonymously, or on the record (in which case you'll be credited).