We've created a morning conference track for more execution-focused civil servants to share their challenges and crowd source solutions from other attendees.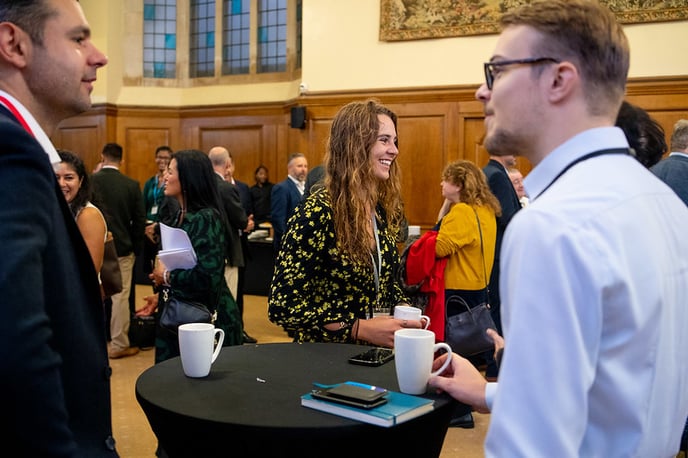 We want to widen access to the conference by creating a space in the morning for execution-focused civil servants to come together, build their professional networks, and support one another on the common challenges they're working on.
The 'Challenge Lab' creates a space for early career 'rising stars' to review some of the common challenges facing their peers across Whitehall - with a series of short presentations from their colleagues, and some collaborative small group discussions.
After lunch, all Challenge Lab participants join the main conference proceedings - getting to network with a wealth of senior Civil Service experience from across the UK, and international counterparts, and playing a full role in the remaining Discussion Table sessions.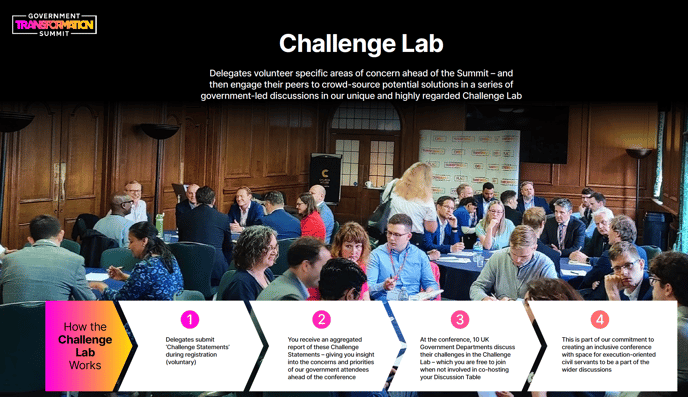 Get your team involved
The Challenge Lab is part of our continuing efforts to create parallel spaces for different Civil Service grades to benefit from the expertise on hand during our Summits - before bringing everyone together after lunch in a single shared space for asymmetrical idea exchange and mentorship.
You can read more about our commitment to diversity and inclusion here - and crucially help us make a difference.
Challenge Statements
All conference delegates ("contributors") are invited to complete an optional challenge statement during registration. This can be a project, team or departmental challenge that they are willing to share with Summit attendees in order to crowd-source potential solutions.
The top 10 most interesting submissions are featured in short presentations during the morning Challenge Lab stream (which runs in parallel to the main conference) - and are represented physically in the room by 'Challenge Tables', each table specific to a single Challenge Statement and hosted by representatives of the nominating department.
Delegates and sponsor representatives not involved in the morning session of the main conference, come together and workshop approaches to the 10 featured challenges.
This morning track is moderated by Sam Birchall, our Senior Journalist - and then, following lunch, all participants join the main conference and participate in the discussions there.