Document Accessibility in Local Government
How accessible is local government online?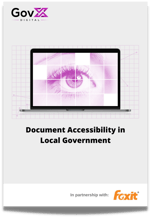 Comprehensive new research reveals the progress local authorities have made to ensure their online presence is accessible to all - as well as the work that remains to be done.
As of September 2020, all local government websites have been required to be accessible under regulations covering public sector bodies.
Document Accessibility in Local Government is the first research released since this deadline that examines the use of documents by unitary, county and district governments to support citizen engagement - and the challenges faced by their records, compliance and IT teams.
27% of UK local authorities participated in the research, which covered:
• Levels of compliance
• Accessibility best practices
• Challenges impacting document accessibility
• Addressing legacy documentation
• Governance of document creation

This research took place by GovX Digital in March and April 2021, and was underwritten by Foxit, a document productivity company specialising in 'doing more with documents'.
Fill in the form below to download your copy